The convenience of a pellet grill is unparalleled when it comes to the quality of your foods and maintaining all the tastiest juices from meats. It is one of the best ways to cook and one of the most popular ones. However, if your budget is limited and you think you cannot afford such convenience, worry not because we have made a list of the best pellet grill under $500.
Luckily, today's market is full of various pellet grills you can buy, and a lower price does not necessarily mean that you will get inferior quality. On the contrary, there are countless top-notch units available for prices that go up to 500 USD. In order to make this purchase easier for you, we made a list of some of the best-reviewed pellet grills in this price range. So let us start.
List of Best Pellet Grills Under $500
1. PIT BOSS PBV3P1 Vertical Pellet Smoker, Copper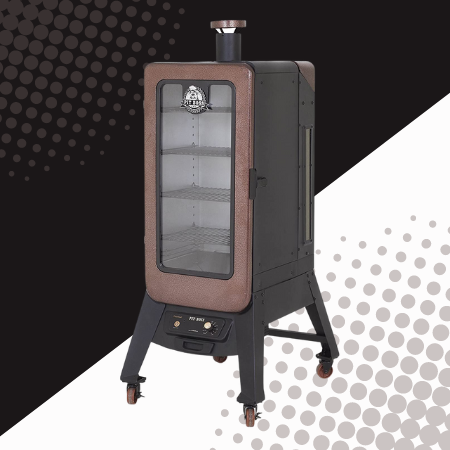 This vertical pellet smoker is everything that you would hope a high-quality budget grill can be. You get lots of cooking space, excellent temperature control, and superb performance wrapped in a neat package that costs just under 500 USD, making it an exceptional bargain.
The inner material used in the manufacturing of this incredible unit is stainless steel which grants exceptional rust resistance and temperature maintenance. It is a bit on the heavier side at 97 pounds weight, but this weight is just another testament to the quality as this unit will definitely serve you for a very long time.
The cooking surface stands at 901 square inches, and it is spread on four porcelain-coated cooking grids on which you can cook for larger cooking parties. The temperature is fully programmable, and it ranges between 150 and 450 degrees, sufficient for searing, grilling, baking, roasting, broiling, and much more. It is an amazing unit that comes at a surprisingly low cost, given the features and qualities it possesses.
2. PIT BOSS PB440D2 Wood Pellet Grill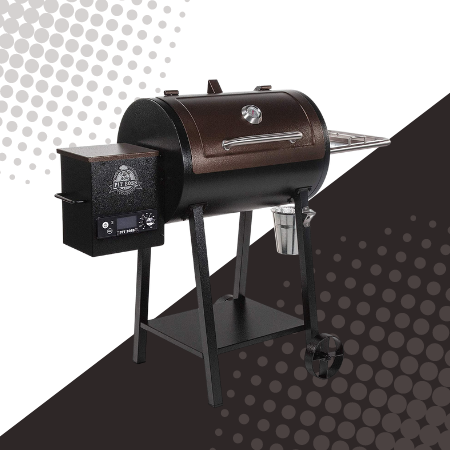 Pit Boss is a grill manufacturer famous for its stylish designs that bring some extra charm to your kitchen or outdoor grilling area. However, the looks are just a bonus to a series of great features their grills possess, and PB44D2 is no different in any way.
It is a versatile unit that will serve you for a very long time due to the quality of construction and exceptional performance at high temperatures. Its cooking temperature ranges between 180 and 500 degrees Fahrenheit, and it is very easy to control it.
The total cooking surface of this grill stands at 465 square inches, sufficient for smaller to mid-sized families. The cooking grid is made of porcelain-coated steel that performs amazingly, and your foods do not stick to them. It is a great mid-size grill that offers an exceptional price/value ratio.
3. Z GRILLS ZPG-450A Upgrade Wood Pellet Grill & Smoker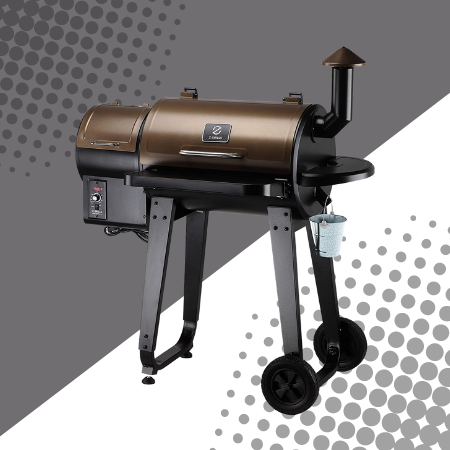 This wood pellet grill is a product from the Z Grills store, and it delivers superb performance and quality foods for smaller families. Like most mainstream pellet smokers, ZPG-450A is made of heavy-duty coated steel, and it is surprisingly solid and sturdy, especially when you consider the price.
It features a nice set of cooking grates that are made of porcelain-coated cast iron. These grates are also rust-resistant and very easy to clean and maintain; in addition, the food does not get stuck on them, so you get a smooth and hassle-free cooking experience with them.
On the bottom rack of this grill, you get 324 square inches of cooking space, and on top, you will find extra 128 square inches giving you a total of 450 square inches, which is suitable for cooking for smaller families and cooking parties.
The hopper can fit up to 15 pounds of the pellet which grants you one hour of smoking per pound. It is a truly impressive unit for the price, and you should definitely give it a chance, especially if your budget is limited.
4. Green Mountain Davy Crockett Foldable Portable Wood Pellet Tailgating Grill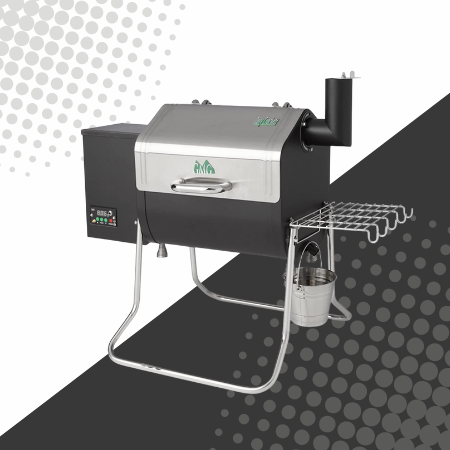 The third product on our list found its place due to its incredible portability and convenience you get with it, especially if you enjoy grilling while on the move. It comes with a peaked lid, a pellet hopper with a nine-pound capacity, and convenient foldable legs.
This little grill is packed with various useful features that you would not expect for such a small unit. It is WiFi compatible through the iOS or Android app, which allows you a nice control from a distance. It weighs 68 pounds and boasts a cooking surface of 219 square inches, sufficient for smaller cooking groups.
This is a very well-built unit, and it is constructed using top-notch steel. As we already mentioned, the pellet hopper could hold nine pounds of pellet, so you should always keep an eye on levels of pellet, especially if you plan to cook at higher temperatures. Overall it is a great unit, portable, convenient, and affordable.
5. Z Grills ZPG-7002B Wood Pellet Smoker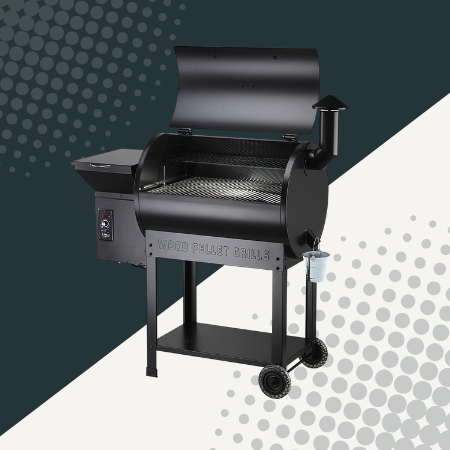 Very well-built and sturdy, ZPG-7002B is a wood pellet smoker that checks all the boxes you can think of when it comes to budget-friendly grills. Z Grills is a US-based company that has been delivering top-notch grills for over 30 years, and this unit is no exception.
Apart from being beautifully designed and well-constructed, this wood pellet grill offers exceptional performance at high temperatures, and it delivers juicy and smokey flavor. The temperature of this unit ranges between 180 and 450 degrees Fahrenheit, and it is very easy to control and adjust.
It is a pellet grill that features a cooking surface that stands at 700 square inches, which is sufficient for larger families and cooking parties. The outer material of this unit is entirely made of stainless steel, making it highly resistant to corrosion. The hopper capacity stands at 20 pounds which will give you a relaxing cooking session without worries about needing to refuel.
6. Cecarol Pellet Smoker, Wood Pellet Grill, Portable Tabletop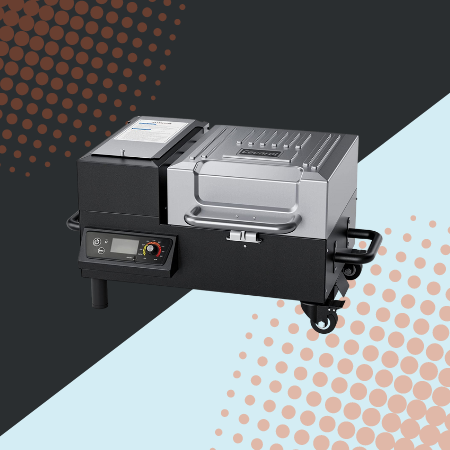 Coming from the Cecarol store, this pellet smoker is an excellent pick for anyone that likes to grill outdoors, on the move, or on road trips with family and friends. It is a small and portable unit that is compact and convenient. However, its size should not fool you, as this is a very powerful grill that can operate at high temperatures.
This unit is separated into two levels – the upper level is a warming rack, and the lower level is the cooking grill that offers you a total cooking surface of 250 square inches, which is sufficient for smaller cooking groups. You can sear, smoke, grill, bake, braise, broil, or roast on this grill as its temperatures can range between 180 and 450 degrees Fahrenheit.
What makes this unit so convenient for road trips is its portability, as it can easily fit in the trunk of your car. In addition, it is very easy to use; simply plug it into your power supply, add pellets, and you are all set. It also has a 13-pound hopper capacity which is sufficient to grant you an easygoing grilling session. It is a valuable grill that comes with an affordable price tag.
7. Traeger Grills Tailgater 20 Portable Wood Pellet Grill and Smoker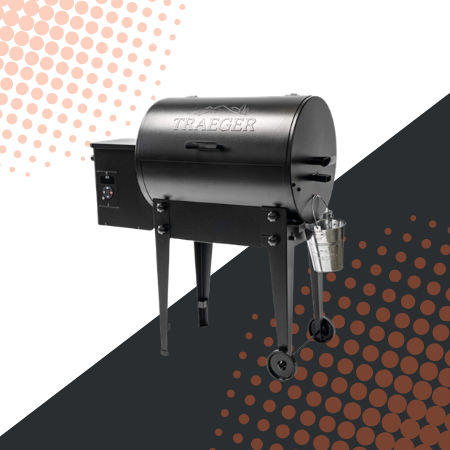 This lightweight pellet grill is everything that you require for a suitable cooking session, completely hassle-free. Due to its size, this grill is very easy to move from place to place, and since it weighs 62 pounds, you can easily lift it as well. It is a product from a well-known grill manufacturer, Traeger, and it does an excellent job for the price.
It features a digital thermostat on which you can set the cooking temperature effortlessly and make precise adjustments very fast. This unit delivers 300 square inches of cooking surface, and its hopper capacity stands at eight pounds, which is not a lot but will do the job with occasional refuels.
This Trager's product offers a temperature range between 180 and 450 degrees Fahrenheit as is the case with most similar products in this price range. It is a versatile unit that will deliver you top-notch food quality, and as a cherry on top, it comes with an affordable price tag that will suit most budgets.
8. ASMOKE AS350 Portable Wood Pellet Grill & Smoker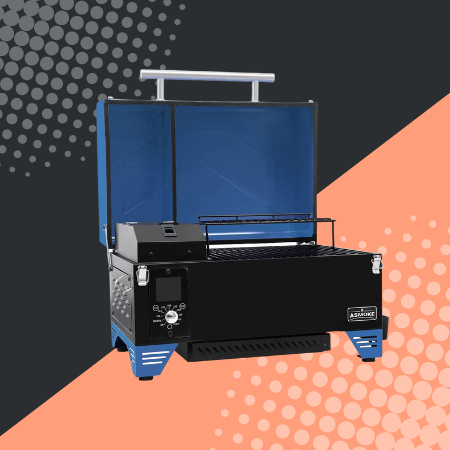 This small and portable pellet grill is a product from the Asmoke store and offers exceptional value for the price. For an affordable pellet grill, this unit is very tough to beat due to its performance and series of convenient features everyone requires for their cooking sessions.
AS350 is very easy to assemble, operate, and maintain the temperature. It also holds the temperature on a very high level and spreads the heat evenly to get you the best possible quality from the cooks. You get plenty of grilling space for smaller cooking groups as it boasts 256 square inches of cooking surface.
The temperature can range between 180 and 500 degrees Fahrenheit, which is more than sufficient for grilling, searing, roasting, broiling, or roasting. This grill also comes with some handy features, such as automatic ash cleaning and grease collection. It is a very valuable product that you should definitely check out when you get a chance.
9. Cuisinart CPG-256 Portable Wood Pellet Grill and Smoker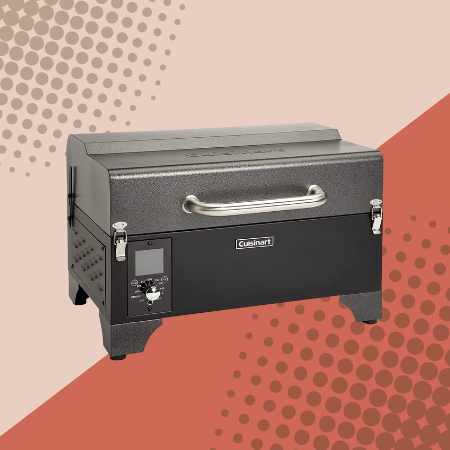 CPG-256 is an amazing portable wood pellet grill and smoker that offers you eight different cooking choices, making it highly versatile and simple to use in preparing various foods. It is lightweight and can be moved from place to place with ease.
However, do not let the weight of this product trick you because although it is light, it is very well constructed and sturdy, which will ensure it serves you for a very long time. You are also provided with a digital controller that allows you to adjust and control the temperature from a distance.
The hopper capacity of this unit stands at 12 pounds, which is enough for you to relax and not have to refuel often. The cooking surface is 256 square inches, and it has an integrated sear zone that will expand your cooking options, especially because the temperature ranges between 180 and 500 degrees Fahrenheit.
10. Monument Grills Octagonal Column Wood Pellet Grill Outdoor Smoker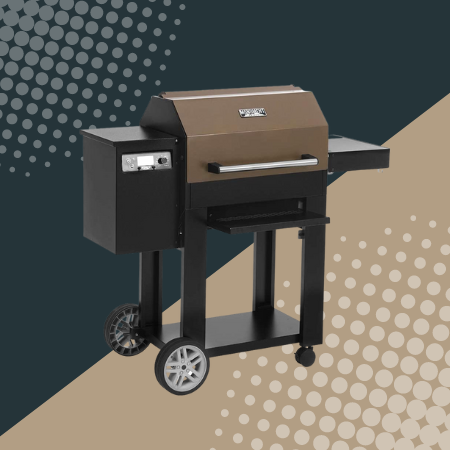 Made of stainless steel and chrome, this wood pellet grill is a product from the Monument Grills store, and it is a very nice budget pick for everyone that enjoys smokey flavor on their barbeque. It features a specific Chimneyless design that ensures that the smoke circulates inside the unit and delivers exceptional food quality.
Once you try out this unit, you will see just how easy the grilling sessions can actually be due to the precise temperature control that allows you to adjust it and cook juicy meats at all times. You can also cook for larger groups since this grill's cooking surface stands at 698 square inches.
You also get a searing feature that is a nice little touch. Even though the Monument Grills often gets overshadowed by more famous manufacturers of grills and grilling equipment, they have lots to offer with their amazing designs and attention to detail invested in making their products. This unit is definitely worthy of attention, so check it out when you get an opportunity.
Things to Consider Before Purchasing a Budget Pellet Grill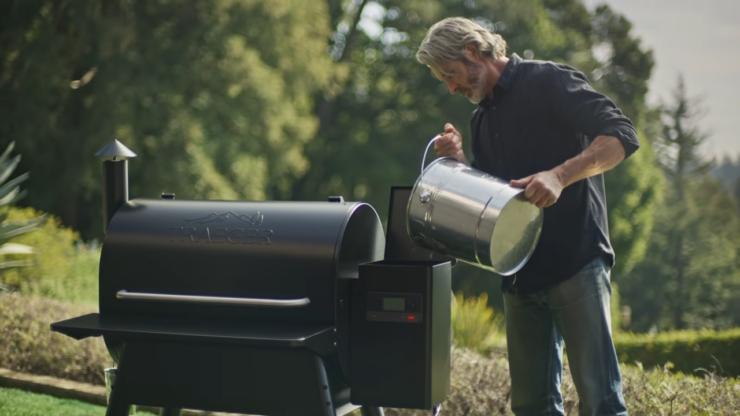 When buying a budget pellet grill, you should consider multiple factors that will guarantee you get the best possible value for your money's worth. There are multiple features that make such a product, and we made a list of some of the most important ones to share with you in the section below.
Size
The size plays an important role in the purchase of a pellet grill, so it is important to carefully measure the space in which you want to store it. It will also decide how much food you can cook and store in it, so choose the product accordingly.
Cooking Surface
The cooking surface is another crucial aspect to take into consideration when purchasing a budget pellet grill. You should determine how many people you plan to cook for and pick the grill with a suitable cooking surface based on this. It is important to note that as the grilling surface gets bigger, so does the price of the grill.
Pellet Hopper Capacity
The capacity of the pellet hopper will ultimately determine how often you should refuel the grill. The larger this capacity is, the more time you will be able to be away from the grill because it will not require frequent refilling.
Most budget grills offer you a hopper that can store between 10 and 15 pounds of pellet wood, but you can also find the ones that can fit more for a higher price.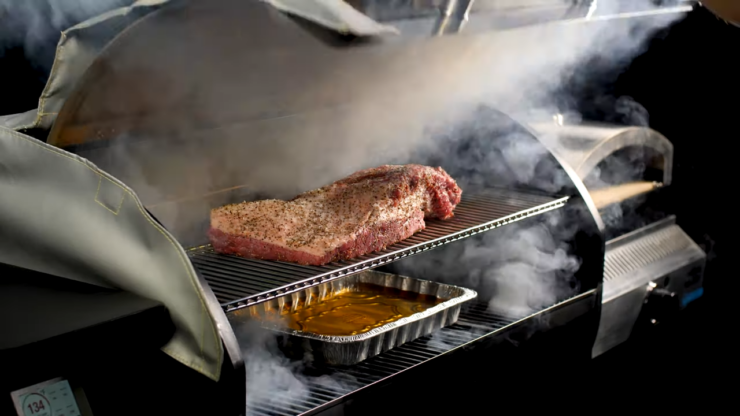 Temperature Control
One of the most apparent advantages of pellet grills, when compared to charcoal or propane ones, is that you do not have to stand watch by the food and often check if the grill requires refilling.
This is possible since most grills we have listed possess digital control that allows you to set the temperature you want, after which you are free to roam and do other stuff while the grill does all the work.
Portability
Suppose you are looking for a grill that will allow you to move it from place to place with ease and transport it completely hassle-free; look for grills that offer some portability features. Opt for a grill that has foldable legs or built-in wheels, as they will help you move the grill around effortlessly.
Frequently Asked Questions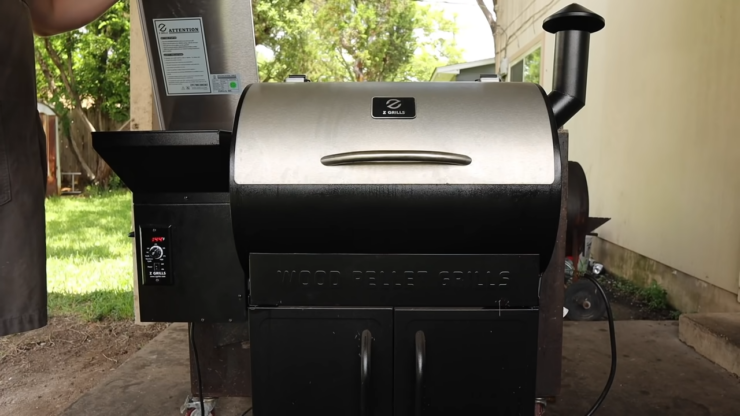 1. Do I need electricity for the pellet grill?
Unlike other grills like charcoal or gas, you will require electricity to power the pellet grill. These grills typically have a control panel, auger, thermometer, and fans that are electric, so you will need an electric outlet to make them work.
2. Why are the pellet grills better than other types?
There are numerous reasons why people generally prefer using pellet grills over other traditional models. One of the main reasons is that they can provide precise temperature you can set up via a control panel, which is very useful if you want to smoke for longer periods and do some other activities while your food is prepared.
3. What is a PID controller in pellet grills?
PID (proportional, integral, derivative) controller is a feature that some pellet grills possess, and its purpose is to create highly precise temperature conditions. These controllers use real-time metrics to adjust the cooking conditions and provide you with high-quality food.
4. Is the pellet grill under $500 worth it?
Absolutely. There are plenty of high-quality options on today's market that will deliver you exceptional results even though they come with lower price tags. For this budget, you can find a wide variety of products that are portable, convenient, and maintain the temperature at a high level.
Final Words
This wraps up our buying guide for the best pellet grills under $500. Although choosing a grill on a limited budget was challenging in the past, nowadays, you can find plenty of options that will not only fit your money limitations but will also deliver exceptional performance.
We hope you enjoyed our guide and that it will help you get a better understanding of budget pellet grills. In case you still cannot decide which product to purchase, we recommend you revisit our list of top ten picks and consider the features you require out of such a grill. These grills are designed to last for a long time and will surely satisfy every cooking need you have.
If these weren't enough, check out some other pics from Amazon also: